Antiques/Uniques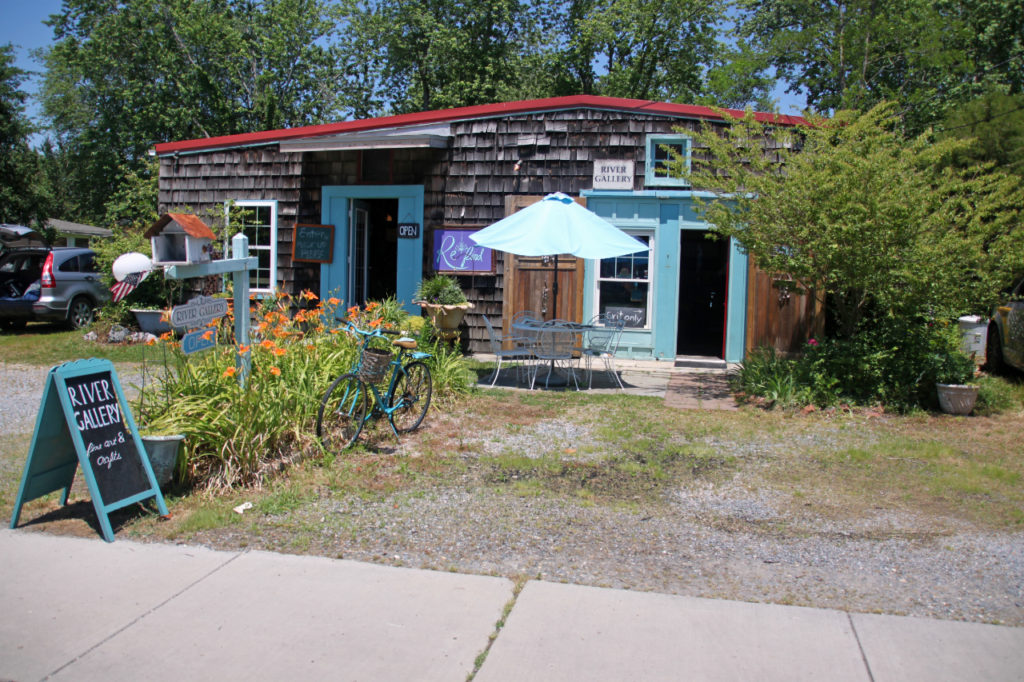 Captain Harvey's
Whether you're looking for an old Woodfield oyster can or something you didn't know you needed, Captain Harvey's Antiques should be on your itinerary. The building that houses Captain Harvey's, named after Captain Harvey Leatherbury, who ran a store in town for many years. This shop was once called the Pink Domain and also Rowland Antiques.
Jailhouse Antiques
Once the location of the Galesville jail and Substation One, this block house on the corner of Muddy Creek Road and Galesville Road is now Jailhouse Antiques, offering "smalls" and other giftware.
Re-find
This is a fun place to find refinished and refurbished vintage furniture. Open the first full weekend of each month.
River Gallery
The artists of Galesville are featured at the River Gallery on Main Street. Artwork and creations of all kinds can be found here.
This & That Treasures
Don't pass this on your way into town! This & That Treasures offers just that – vintage and antique items of all kinds, large or small.
Churches/Faith Organizations and Cemeteries
The first church built in Galesville, Ebenezer AME Church has been in this community since 1880.
Galesville United Methodist Church
The Galesville United Methodist Church was first built on land deeded by Emile and Sophie Lerch in 1885. The old clapboard church that was originally built was rebuilt in the early 1950's. Memorial windows were taken from the old church to be part of the new church. The original church was moved and became a private home across the street from the church.
Alvin Hardesty's blacksmith shop eventually became the town funeral parlor because Southern Anne Arundel County lacked a funeral parlor. Hardesty Funeral Home is still a family run business today.
Quaker Burying Ground
Dating to 1672, this plot of land has a lot of history.
Woodfield Cemetery
Prominent as you enter Galesville on Main Street, the Woodfield Cemetery is a place where many local families were buried.
Marine, Boating and Industry
Galesville Volunteer Fire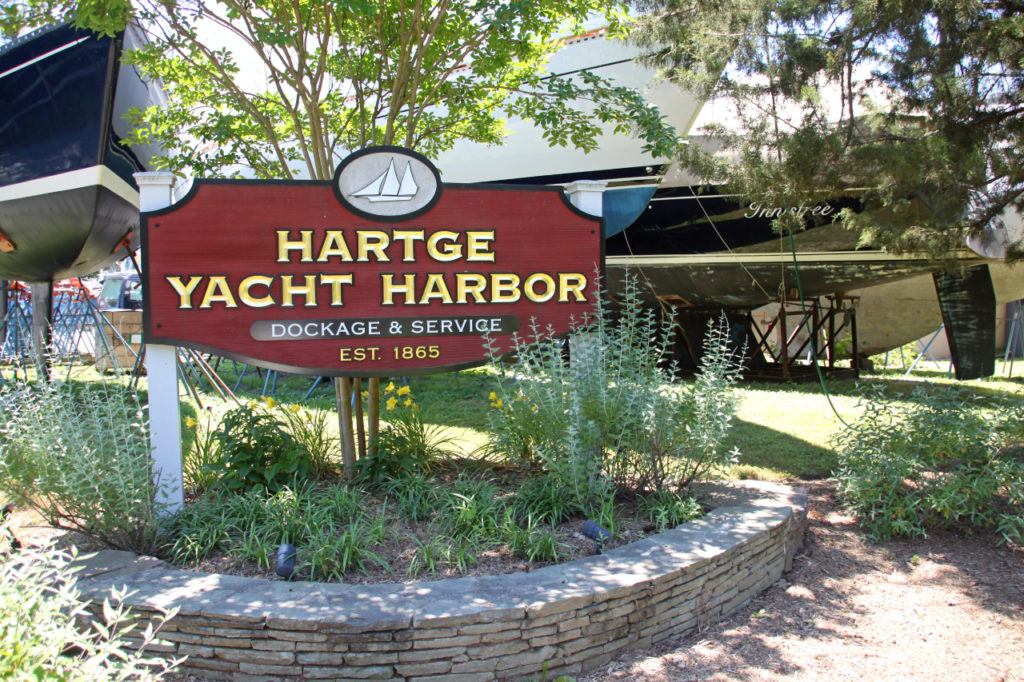 As in many small communities in the U.S., volunteer fire services were an essential way to keep the community and property safe. Local citizens in Galesville organized in the early 1900's after fire destroyed or damaged local homes and businesses. The Galesville Volunteer Fire Company's fire house was built on land acquired from the West River Improvement Association. In 2020, a new fire house was built on Muddy Creek Road and the fire house was sold. The Maryland Maritime Heritage Club is now located in the old fire house on Main Street/Galesville Road.
The Hartge Yacht Harbor is a full-service marina, providing repair, storage and mooring. This family run marina business was founded by Henry Hartge in 1832, who was a piano builder. Hartge purchased close to 500 acres on the West River to supply his piano building with wood. Emile, his third child, began repairing and building boats at a young age and purchased White Stake Point in 1879, where Hartge Yacht Harbor is located today, off of Church Lane. Sons Dick and Oscar designed and built the Albatross, a 20-foot double ended v-bottom sloop, the first of the Chesapeake 20 class of sailboats. The Hartge Yacht Harbor also has a museum on site.
Located on Woodfield Road where Woodfield Oyster used to be, Hartge Yacht Yard offers boat repair and restoration services and a boat ramp. The Woodfield Oyster packing plant was one of the largest in the United States in the 1940's and transitioned to an ice company in 2000. It is no longer in business.
Maryland Maritime Heritage Club
The MMHC is a membership-based association dedicated to connecting people who love and enjoy vintage and classic boats with events, education, expertise, and other people who share the passion. They host an annual festival on the Chesapeake Bay and provide information, education and resources designed to promote, sustain and grow the hobby, professions, community, and lifestyle surrounding the safe enjoyment of classic boats and boating.
Smith Brothers, owned for a long time by the Smith family and now run by McLean Contracting Company, is a barge and tug boat rental company.
Formed in 1930, the West River Sailing Club was established by a group of West River sailors who wanted to have "OODYC" – Our Own Damn Yacht Club. Set on one of the most beautiful views in Galesville, the club is home to many sailing races and summer sailing school, inspiring a new generation of sailors.
Organizations
Galesville Community Association and Center
The Galesville Community Center was one of the historic Rosenwald Schools.
GHS/Museum
West River Improvement Association
The West River Improvement Association was organized for charitable and educational purposes, specifically to protect and improve the quality of life in Galesville, Md.
Restaurants
This popular restaurant has amazing views of the West River and classic regional seafood offerings. At one time known as Zang's Pier, the restaurant served as a store, a post office and a warehouse. It was once an oyster and crab house and when it became Pirate's Cove, it was enlarged and includes boat rental slips, an outdoor bar and a motel. The Galesville Heritage Society has many old photos of Zang's Pier over the years.
Originally the pier that river steamboats would come to with passengers and freight during the nineteenth century, including the Emma Giles, this lively hotspot now features an outdoor bar and an indoor dining room with panoramic views of the West River. During the early 2000's, it was known as Thursday's and prior to that, Steamboat Landing.
Recreation/Schools
Carrie Weeden School and Science Center
The Carrie Weedon Science Foundation is now part of the Anne Arundel County School System.
Community Pier
Conveniently located on the water at the end of Galesville Road/Main Street, members of the community can fish, put a kayak in the water or just enjoy the view.
Galesville Hall
Galesville Hall is the site of many community gatherings, and has been since the early 1900's. Herman and Bessie Woodfield deeded one acre of land to the Galesville Improvement Association, which later become incorporated as the West River Improvement Association and shares funded the cost of constructing a town hall.
Elizabeth Dixon Park
One of two waterfront parks in Galesville, Elizabeth Dixon Park was named in honor of a beloved teacher who valued our village lifestyle and history. The park offers a place to sit and reflect, while enjoying the view of the Bay from the West River.
Hot Sox Field
This sports field was named for a baseball team from the early 1900's, the Galesville Hot Sox, was originally comprised of young men from town who worked for Woodfield's Seafood Company or worked on the water. Until becoming an integrated team the 1960's, they played in the Negro Professional Baseball League.
Today, teams still play on the field and Anne Arundel County Recreation and Parks is planning a major renovation.