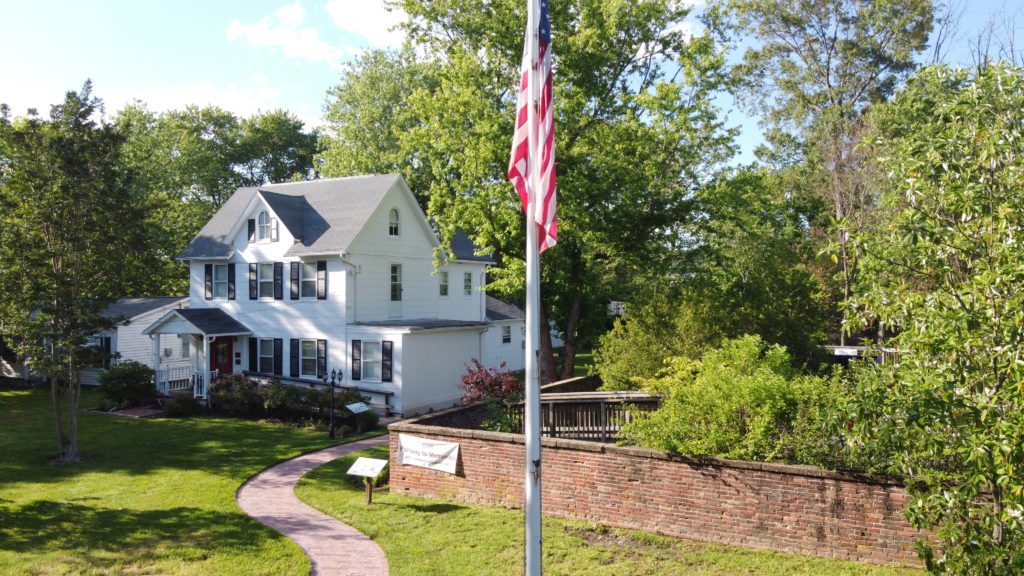 Galesville Heritage Society
The Galesville Heritage Society and Museum is a 501 (c) (3) nonprofit organization dedicated to protecting and maintaining the rich cultural heritage of Galesville, Md and the surrounding South Anne Arundel County area.
About Galesville, Md
The waterside village of Galesville sits south of Annapolis, Md in southern Anne Arundel County, on the scenic West River. The small town has one main street that runs to the water and has a population of around 500, primarily year-round residents.
There are many things to do in Galesville, including restaurants, marinas, antiques shops and places of worship. Learn more about local businesses here. If you are so inclined, you can take a walking tour of Galesville and visit its most historic homes and sites.
Short and Selective Historical Overview of Galesville
(by Bruce Weidele)
On October 28, 1652, a land grant or "Certificate of Survey" for 660 acres of land on the West River, named "Brownton," was granted to John Brown and John Clark and their families. Puritans, the Browns and Clarks came from Virginia, where they were unwelcome, to Maryland following the enactment of the "Act of Toleration" in 1649. The Clarks and the Browns later became Quakers as did many of the early West River planters.
Quakers
Galesville marks the birth of Quakerism in Maryland. The West River Quaker Meeting in the spring of 1672 drew great numbers of Quakers (including founder George Fox) at the meeting house where the Quaker Burying Grounds is now. So many attended, tents were erected along the adjoining creek to accommodate them. Originally called "Browns," the creek became known as Tenthouse Creek. The Quaker planters prospered as tobacco became an important commodity. However, their lavish lifestyle and, especially, reliance on enslaved labor put them at odds with Quaker principles. The planters drifted away from Quakerism.
Port of Entry
Until the early 20th century, roads were poor and the rivers and the Bay were the avenues of commerce. Its protected waterfront made Galesville an ideal location for a wharf; its importance was recognized in 1684 when it was designated an official "port of entry" for checking imports and exports and imposing duties. It became known as "West River Landing". From then until the end of the steamboat era it was a center of shipping and travel for the West River area. Throughout colonial times the landing "probably consisted of a wharf together with a warehouse or two and possibly a store or blacksmith shop."
Kelly intro to tercentenary: From the establishment of the Landing until the mid-19th century one may assume the Landing little changed. In 1843, George Stewart inherited the peninsula and began subdividing in 1844. While most of the land was sold to George Gale, 5 acres on the waterfront was leased for commercial purposes to Thomas Crouch and L.H. Randall. Crouch is said to have been the first to build a house here. According to the 1850 census, the population of Galesville consisted primarily of storekeepers, with their families and clerks, and seamen, many of whom were free African Americans. Their homes and storehouses lined the waterfront by the county pier.
Growth of a Village
In the late 19th and early 20th century change accelerated, and the village of Galesville emerged. Regular steamboat service provided new opportunities. And land became available. After George Gale died, his Galesville holdings were sold; after a plan to develop some of the land for a summer community fell through, the lots were sold to locals. Families whose names have become synonymous with Galesville – Crowner, Smith, Dixon, Mackell, Woodfield and Hartge to name a few – purchased land and built their life here. The village of Galesville emerged.
Steamboats, such as the famous Emma Giles, were the principle means of communication and commerce, bringing mail, goods and supplies, and leaving with peaches, tomatoes and hogsheads of tobacco. Visitors came to stay at area boarding houses or just have ice cream at the ice cream parlor. Galesville citizens traveled to Annapolis and Baltimore. Business thrived.
The demand for Chesapeake oysters surged and an increasing number of men drew their livelihood from the water. Canning houses for oysters and tomatoes were common, and oyster shells were ground for lime; there was a lumberyard and boat building. Stores lined Main Street; several restaurants served locals and visitors. There were blacksmiths and other small businesses such as a milliner and beauty shops to serve Galesville. Each summer the Floating Theater docked at the county pier bringing a week of entertainment to the West River community.
After years of holding services in homes, churches were established, first the Ebenezer African Methodist-Episcopal Church then the Galesville Methodist Church on Church Lane. In the early years, children were taught in private homes. The first school, for White children only, opened at the end of the 19th century in the area where the Galesville Community Center is located. The first teacher was Carrie Sanks Weedon. Black children continued to be taught in private homes, but when a new school for White children was built on Church Lane, the old school opened for Black children. That school burned, but through the efforts of the African-American community, with help from the Rosenwald Foundation, a new school was built. Recognized as one of the finest examples of a Rosenwald School, today it is the home of the Galesville Community Center.
Today
As time went on, roads improved making the outside world more accessible to Galesville. More residents earned their livelihood outside the village. One by one, local stores, facing competition from larger stores elsewhere, closed. A new integrated school opened as the Carrie Weedon School, but as enrollment fell it closed and for the first time all Galesville children left the village for school. As the oyster harvest declined, fewer and fewer earned their livelihood from the seafood industry. But, Galesville, with its protected moorings and proximity to the Bay, became a center for the booming recreational boating industry. Despite these changes, Galesville continues to be thought of as "the village" by its residents.
Other notable events….
After a conference in December, 1682 with Sir Charles Calvert to discuss the boundaries of Maryland and Pennsylvania, William Penn embarked from the Landing for the Eastern Shore. The only shore engagement between the British and colonial forces in Anne Arundel County during the War of Independence occurred off West River Landing on March 31, 1781. The British attacked a gun mount at Chalk Point, then continued up the river and burned a 20-ton ship under construction at Steward's Shipyard located at the headwaters of the West River.
Steward's home was also destroyed.
Stephen Steward's partner, Samuel Galloway, a successful merchant and planter who owned 30 ships and many slaves, built Tulip Hill, one of the finest 18th century, five-part Georgian houses in the United States. Constructed between 1756-1790, Tulip Hill was designated a National Historic Landmark in 1970 and remains privately owned. Tulip Hill is located just north of Galesville on Muddy Creek Road. African Americans have played an integral role in Galesville history. In 1865 and 1871, Henry
Wilson, a freed slave, purchased land along the north side of Galesville Road adjoining the Quaker Burial Ground. Some of that land is still used as an athletic field and was home base for the famous Hot Sox baseball team. Anne Arundel County Parks and Recreation now owns the land. The Galesville Community Center on Benning Road is located in the historic Rosenwald School. The first dedicated church structure in Galesville was the Ebenezer African Methodist Episcopal Church. African Americans were essential to the growth of Galesville's prosperity.
The steamship Emma Giles began its regular schedule to Galesville, Chalk Point and Shady Side in 1891. Service continued until 1932. She was a primary link to the world outside the West River. Her arrival was an event, bringing goods and visitors and leaving with tobacco, tomatoes, peaches, and Galesville folks on their way for business, school and shopping in Baltimore and Annapolis. Galesville volunteers started the first volunteer fire department south of Annapolis in 1929 and served all of South County for many years.
The Galesville Memorial Hall on Main Street was built in 1914 and was later dedicated to World War I and World War II veterans. About 40 men and one woman from Galesville served during World War II. One local man, Captain Eddy Smith, shared Hometown News in letters that went out to members of the armed forces for almost two years and remain a slice of mid-1940s Galesville history. For this labor of love and patriotism, the park on the waterfront at the county pier was dedicated to Captain Eddy. Galesville lost Vernon Wayson in World War I, Leo Benning in World War II, and Michael Hardesty in Vietnam. In 1952 the citizens of Galesville put on a grand celebration and pageant to mark the tercentenary of Brownton.
The West River Sailing Club was established in 1930 as OODYC (Our Own Damn Yacht Club). Since then, with the growth of recreational boating, many weekend visitors have kept their boats in village marinas, such as West River Yacht Haven and historic Hartge's BoatYard on Church Lane.
We invite you to learn more about these and other topics in Galesville and West River history by visiting the Galesville Heritage Museum.